In the past fifteen years, social media has become one of the most popular digital tools. Often used to maintain relationships with family and friends, it has also become essential for businesses and career growth. While the rise of digital content has led to wonderful things, current content practices have resulted in reports of 70 percent of websites being inaccessible to users who use a screen reader, have visual or hearing impairments, or are unable to use a mouse.
There are some simple changes you can make when prepping and uploading content for social media that will allow for equitable access to your content and will open your content to a wider audience.
Because there are hundreds of different social media platforms currently in use, this article will focus on the best practices for three of the bigger platforms: Instagram, Twitter, and Facebook.
Before we jump in, let's define a few key terms used in this article:
Accessible– being easily accessed by a wide range of people and tools.
Alt Text– written copy that takes the place of a media file when it cannot be seen or heard.
Screen Reader– a tool that reads text aloud and can be used to operate a computer.
Instagram
Instagram is a photo and video sharing platform that was created in 2010. The most notable features it has in terms of accessibility are an easy way to add alt-text and a large character limit for captions.
To make sure your Instagram posts are accessible the first thing you will want to do is add alt-text to any existing images and new photos you upload. In most situations, such as when creating a newsletter, you wouldn't put alt text behind a decorative graphic, only images that had additional information or were needed to understand the content.
However, these same guidelines don't apply in the context of social media. Most of the images on social media are uploaded to be decorative and don't always serve a larger purpose. By adding descriptive alt text behind every photo, you are ensuring that everyone will be able to appreciate the photo and its purpose, even if it may just be decorative.
Adding Alt Text to an Existing Post
To add alt text behind an existing post, follow the steps below:
Navigate to the post on your profile and click the three dots on the post's upper right corner.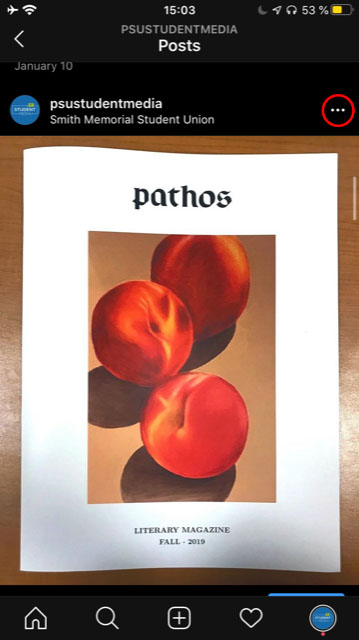 This will open a menu, on which you will click Edit.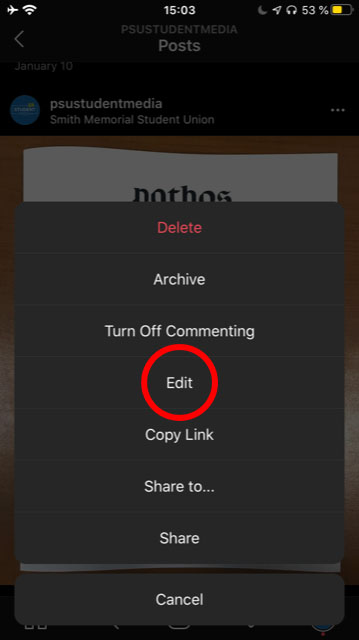 Click the Edit Alt Text button in the lower right corner of the editing window.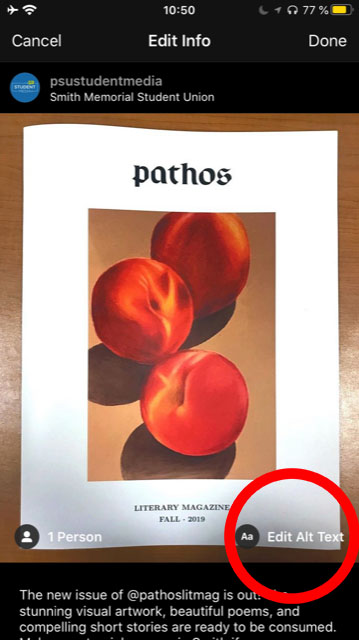 You are now able to add alt text to the photo! Some good things to include in the alt text are who is in it, what they are doing, what they are wearing, and any other important details.
Adding Alt Text to a New Post
To add alt text to a new post, follow the steps below:
Navigate the final posting window pictured below and click on the grey Advanced Settings link at the bottom of the page.
You will be taken to another menu where you will see a heading labeled Accessibility. From here click on the button labeled Write Alt Text.
A dialogue box will pop up and now you can add your alt text, making your photo more accessible once published!
Captions for Videos
It is essential to add captions to any videos that you post on Instagram, however, you will have to do this through a third-party application such as, Kapwing because Instagram currently does not have an internal subtitling program.
An important note is that since any captions you create will be coming from a third party, a screen reader will be unable to read them. To allow screen reader users access to the content, you can either link to a captioned video on an accessible platform such as YouTube or provide a script of the video in your Instagram caption such as the example pictured below.
Twitter
Twitter is a social platform founded on the idea of being able to create and share ideas and information instantly. Making accessible content on Twitter currently requires users to go through a few more steps than Instagram does.
Alt Text
Unlike Instagram, on Twitter you need to turn on the ability to add alt text in your settings. To do this reference the steps below:
Navigate to the Settings and Privacy menu on your account's settings page.
From here you'll want to navigate to the Accessibility menu.
Once in the accessibility menu, you'll want to flip the switch next to Compose image descriptions to green.
Once checked you'll see a button under any image in any tweet you compose reading Add Description. Click on the button to add alt text.
An important note is that GIFs, a type of media often shared on the platform, are often not as accessible by nature. Fortunately, as of February 2020, you are now able to add alt text to GIF files in the same way you would an image on Twitter. This feature is currently only available on desktop, but Twitter has announced it will be building the feature out to iOS and Android soon. However, other platforms don't always allow the addition of alt text for GIFS. If you run into this you can include a description of the file in your caption. This description would include anything that you would normally include in the alt text, such as any words on the GIF, who is in it, what they are doing, etc.
Captions For Videos
Similar to Instagram, when posting a video on Twitter make sure to include captions. These again, won't be able to be picked up by a screen reader, so it is encouraged you link to the video captioned on an accessible platform, such as YouTube.
Acronyms and Hashtags
Twitter's strict character limit can favor using acronyms, however, acronyms are not accessible because they can't be read or understood properly by screen readers. Make the space to include the full name of things.
Hashtags are also popular on Twitter. When writing hashtags with multiple words make sure you capitalize the first letter of each new word, a concept called camel case. For example #beaccessible vs. #BeAccessible. This ensures that a screen reader will be able to read the hashtag accurately. This concept isn't solely for Twitter either. You should be using camel casing on any social platform when using a multi-word hashtag.
Facebook
Compared with the other two platforms, Facebook has very similar accessibility features. However, being one of the first social media sites, it has some advantages and more fully developed features.
Alt Text
One feature Facebook has nicely developed is its extensive guides on creating accessible content. Facebook has a dedicated accessibility page filled with step by step guides on creating accessible content on their platform, as well as ways that you can manipulate settings to make content more accessible for your use of the platform.
One such guide details how to override the platform's auto-generated alt text and add custom alt text to new photos. In addition to the accessibility guide page, the platform also has an accessibility page you can follow on the main social site to stay updated with the latest accessibility news.
Video Captions
Facebook, unlike Instagram and Twitter, allows users to upload a subtitle file, called a SubRip Subtitle file, or SRT for short. Conveniently, Facebook has created an SRT Creation Guide detailing the process of adding and including one of these files on your content.
Additional Resources and References
If you would like to know more about social media accessibility please check out the resources listed below: